One of three films IN HISTORY to reach $1,000,000 box office with less than 10 prints.
"I'm The One That I Want has got to be the indie success story of the year," says Liz Manne of The Sundance Channel.
Roger Ebert gave it a "Thumbs Up!"
Highest per screen average (on 2 screens) opening weekend in NY and Los Angeles OF ANY FILM IN THE COUNTRY.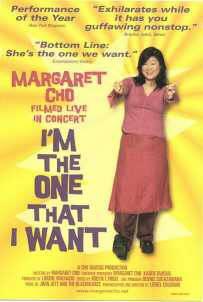 EXECUTIVE PRODUCER
Margaret Cho and Karen Taussig

PRODUCER -Lorene Machado

DIRECTOR-Lionel Coleman

LINE PRODUCER Dennis Sugasawara

UNIT PRODUCTION MANAGER
Ran Barker

LOS ANGELES PROD. COORDINATOR
Shawn McClintock

SAN FRANCISCO PROD. COORDINATOR
Pamela Ball